First thing to do is to make sure to update Microsoft teams! You can do this by hitting the settings gear in the top right-hand corner. This is in the main team's menu, and you can select "check for updates" teams will then check if your desktop application has the most recent update.
Once that's done you will be able to see the new features inside your teams meeting. These new features are highlighted in the video above, we also go over how to use them the most effectively. But if you want to read about it… we have gone through the same steps below – with pictures!
Sharing Content Regularly:
A Good Rule of Thumb would be to make sure your presentation is open on a second monitor or shareable device. Sometimes we aren't sharing a PowerPoint necessarily, maybe it's a complex diagram or course outline. Having a second monitor to setup in your home office or wherever is important! So you can share the screen, and have it open instead of just sharing the content window specifically, we at Skycomp find that this makes life and presenting virtually a little easier. And who doesn't love making technology easier!
Standout Sharing:
Want to standout from the crowd? Be a cool and hip presenter? Well then standout mode might be right for you. It does involve some pre-thought when building your content or presentation. You do end up taking up a bottom right-middle corner of the entire presentation window. See picture below: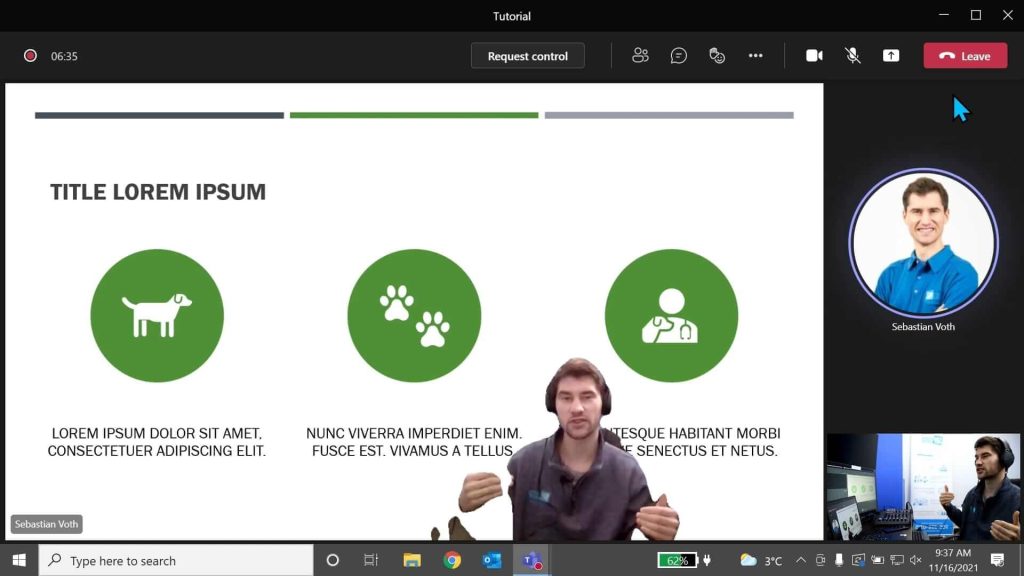 Side by Side Sharing:
This looks more like a classic Picture in Picture look. You in a box beside your slideshow which is also in a box. This shrinks your content down a few sizes, take this into consideration when building out a presentation. Your text might be smaller. This also has a background behind everything, make sure to choose something on theme, or that isn't too distracting for your viewer.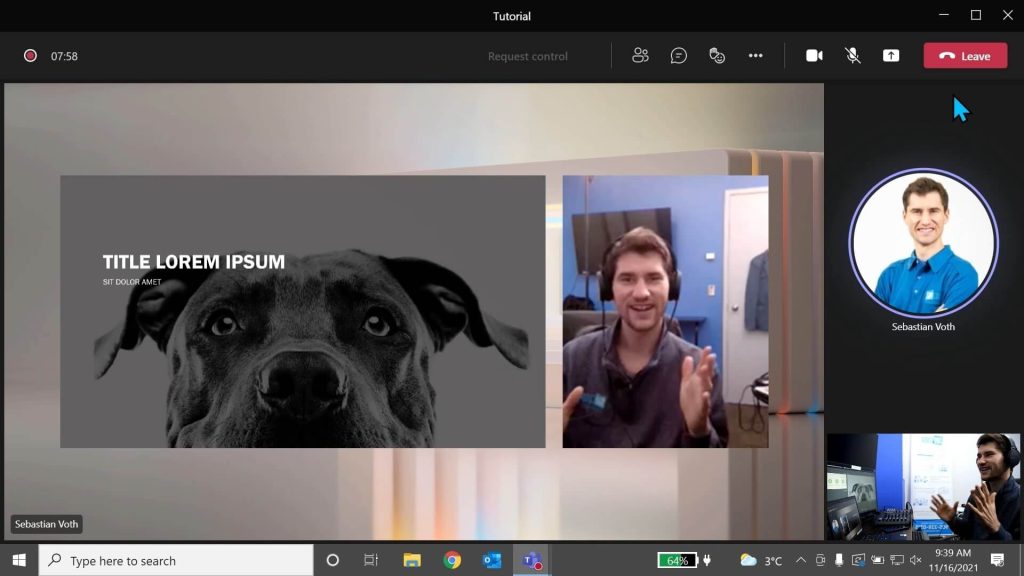 Reporter Sharing:
This is the final way you can share content in teams, it creates a picture in picture view of your slideshow. It also utilizes the greenscreen/key effect in "Standout" mode. This is the best of both those features.
These features work well and can elevate your presentations, Skycomp Solutions is a Managed Service Provider based out of St. Catharine's Ontario. Looking to utilize technology in your business? Join a partnership that will change the way you think about technology? Reach out to us today – Skycomp.ca/contact.